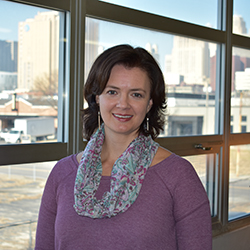 Why Goodwill? I am an attorney by training but an advocate at heart who has spent her life personally and professionally helping individuals with barriers achieve their optimal life. Goodwill's employment mission for people with disadvantages and different abilities is what attracted me to Goodwill. It gives me a greater purpose not just to get up and come to work every day, but also to give 110% effort toward the work I do each day knowing many others will be able to find, get, and keep jobs of their own.
What did you want to be when you were growing up? I wanted to be an ambassador when I was growing up. I was fascinated by the possibility of getting countries to work better together.
What do you want to be now that you are grown up? I don't feel grown up yet, but now that I am growing up, I want to make a difference in the lives of individuals with barriers to employment – especially those with significant disabilities – not just here in the Heartland but internationally as well.
What does it mean to you to be employed? To be employed provides me a purpose – a means of contributing to my community and making the world a little bit better of a place when I leave than it was during my time. Being employed is also a source of dignity and empowerment for me – when I am employed, especially when I am doing work that I enjoy and that means a lot to me, I feel at ease with the stability that employment brings and the many doors that can be opened when using my employment connections for the greater good.
Anything else about you we should know? I love to cook and bake because I love to eat. I speak Japanese and Spanish. I am an avid swimmer and a Latin dance enthusiast.