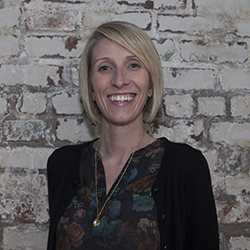 Why Goodwill? There is nothing quite like the experience of helping another attain their goals. I want to be in a space where those around me have a fire, a drive, a passion for bettering the lives of others in the most impactful way. I saw that intensity when I met the Goodwill team and immediately wanted to be aboard this train!
What did you want to be when you were growing up? A professional dancer. More specifically as a backup dancer for Madonna or Michael Jackson!
What do you want to be now? I'm not sure I'll ever lose the dream of being a dancer, but now that I'm older and my moves are a bit outdated, I'd say a motivational speaker (still on stage!). I've always seen myself in a capacity to serve others. It's been an exciting journey serving different communities within my career and I believe the best is yet to come!
What does it mean to be employed? Being employed gives me the chance to use my God-given talents and professional experiences for the good of the community and those in it. I hope to leave a positive legacy through compassion and innovation for my children and the community in which I live.
Anything else we should know? I am an adrenaline junkie! I am an avid Dallas Cowboys fan - GO BOYS! I spend most of my free time with my husband and our two young children exploring our new city.