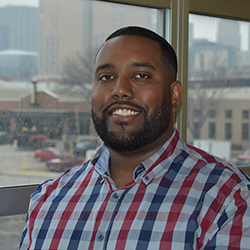 Why Goodwill? I wanted to work for a company where I could see the value my skills were adding to the community, not just the bottom line of an organization. Not only that, I wanted to work within an organization that promoted a culture of working as a team, not just self-advancement. Through my interview process, both those wants were evident. I learned so much about the work Goodwill MoKan was doing in the community, and I could see the passion that everyone I encountered had for the mission.
What did you want to be when you were growing up? I wanted to be a doctor all the way up until college, then I realized I hated science.
What do you want to be now that you are grown up? I want to positively impact everyone's life I come into contact with.
What does it mean to you to be employed? To be employed means that I am able to provide for my family, and specifically being employed at Goodwill means I know I am helping make other people's lives better.
Anything else about you we should know? I have a great wife and one awesome son!