Thanks to many dedicated individuals, agencies, and organizations, our non-profit organization has been providing services for those in need in and around Greater Kansas City for more than 125 years.
It all began in 1894, when the Helping Hand Institute was founded in Kansas City, Missouri. The Helping Hand Institute provided food, shelter and a work relief program for those who were homeless and without resources. Men carried out work projects in exchange for room and board, or earned wages breaking rock at quarries, salvaging waste material and bailing paper. Others raised crops at the Helping Hand farm to feed the Institute's residents. Through the Helping Hand Institute, literally, thousands of Kansas City citizens were able to obtain employment and become self-sufficient.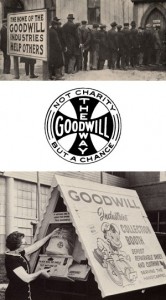 Across the country in 1902, Rev. Edgar J. Helms, a Methodist minister and early social innovator, founded Goodwill Industries on the east coast in Boston, Massachusetts. Helms collected used goods then trained and hired people with disabilities or disadvantages to repair them. The repaired items were then sold in stores to support the program. Goodwill Industries grew, and in 1925 Goodwill Industries of Greater Kansas City opened the first repair shop at St. Peter's Evangelical Church on Oak Street.
By the 1940's, Goodwill had expanded its focus to become a training center and added services such as employment skills training and vocational rehabilitation for persons with disabilities. In 1956, Goodwill began workforce development programs supported by contracts with the State Department of Vocational Rehabilitation. Operating under the same model as Goodwill programs in other communities, Goodwill Industries of Greater Kansas City began providing paid employment for persons with disabilities who repaired donated furniture and clothing sold in Goodwill stores.
These two separate non-profit organizations, the Helping Hand Institute and Goodwill Industries of Greater Kansas City, merged in 1978 to form the Helping Hand of Goodwill Industries. As the agencies evolved into one entity, it became apparent that a name better reflecting the geographical scope of its programs and services was needed. In 2010, the organization changed to its present name, Goodwill of Western Missouri and Eastern Kansas.
Today, Goodwill continues to be a non-profit leader in the Kansas City region providing resources and services to individuals who face barriers to obtaining employment. We believe every person deserves the opportunity to work. "Barriers to employment" is widely defined; it may be a disability or a criminal record, individuals who are in a treatment program, diagnosed with a mental illness, or overcoming health issues. No matter the barrier, Goodwill helps break those barriers and provides people the opportunity to become self-sufficient. In fact, 88¢ of every dollar spent empowers people with disadvantages and disabilities to earn and keep employment through local individualized programs and services.
Thank you for your interest in Goodwill of Western Missouri and Eastern Kansas. We couldn't do GOOD without you!