All About Goodwill
Misinformation and Rumors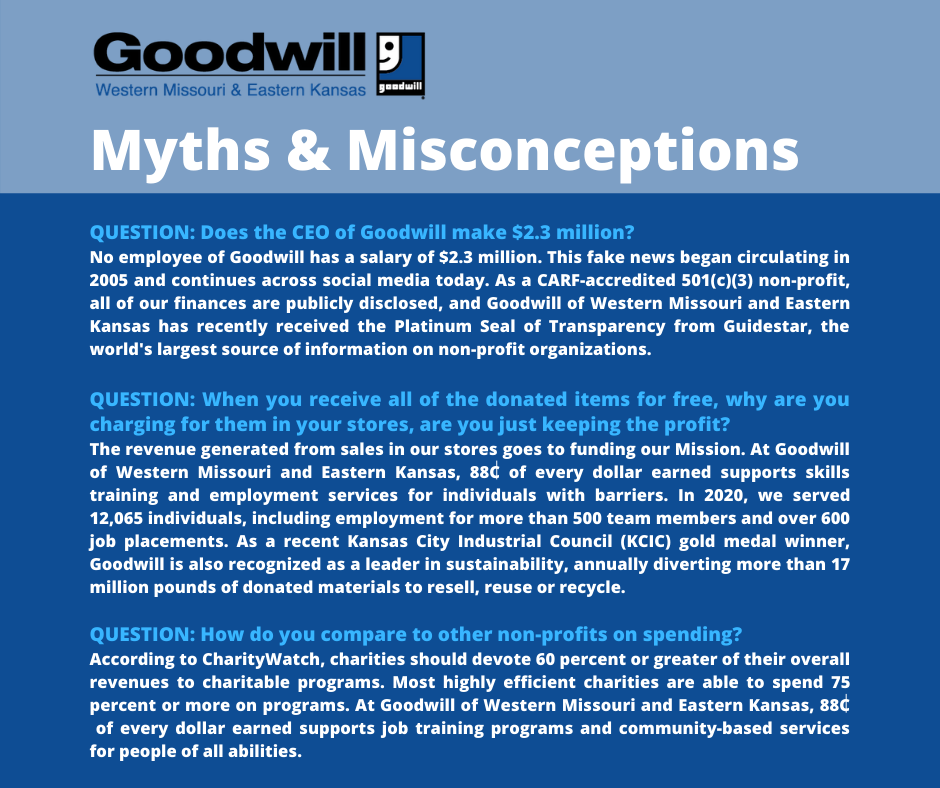 Thrift Store
Donations
---
Goodwill's mission is to empower people to discover their potential and adapt for the future through the power of work. At Goodwill, we help anyone trying to earn and keep employment. Goodwill is a true social enterprise. On average, 88¢ of every dollar spent supports local programs and services.
---
Goodwill provides employment services and programs to help people earn and keep jobs. Our mission services are funded by grants, financial donations, and revenue generated in our stores.
---
Yes. We are recognized as a 501(c)(3) non-profit organization by the Internal Revenue Service.
---
What makes Goodwill's non-profit thrift stores different from other thrift stores?
Watch out! Some thrift stores that claim to be associated with a non-profit are actually for-profit stores that arrange to use a charity's name to collect donations in exchange for a fee or a percentage of the revenue. Oftentimes this is not publicized, and the percentage the charity actually receives may be much less than what the shareholders keep for themselves. Goodwill is a non-profit. And, unlike some other thrift stores, Goodwill is local so donations help others right here in our region. Make your donations wisely!
---
What is a GoodWORKS Career Resource Center? Where do I find one?
Goodwill operates GoodWORKS Career Centers across Kansas City and surrounding areas by appointment, with some conveniently located in the same space as our stores and donation centers. All GoodWORKS Career Centers are FREE to the public and equipped with people and resources to help job seekers. There are computer resources as well as a GoodWORKS Career Navigator to assist you. ANY job seeker can use the GoodWORKS Centers! To find the closest center and its hours, click Locations, and choose "Empower."
---
What skills can I learn through your programs?
Our diverse employment programs and services include career exploration, resume building, interview skills, real work experience, job coaching, and continued support even after going to work.
---
What happens to the items I donate?
When you donate, you help put people to work. The items we collect are sorted, priced, and sold in our stores with revenue from the sale of these items funding job training programs and employment services. Each year, we serve thousands of individuals and help place them into good jobs. When you donate, you are partnering with us in this mission. Thank You!
---
Does Goodwill repair and/or clean items?
No, Goodwill does not repair or clean items. Before items are placed on the sales floor we assess the quality of donations checking for damaged merchandise and other flaws. We do not sell items that are broken, torn, or soiled. Goodwill used to have a training program that taught people how to repair broken items that were then sold. Our mission model has since changed and we no longer train people to repair items.
---
Are Goodwill employees allowed to shop in the stores?
Store employees are allowed to shop in the stores. They are not allowed to shop on the day they work. On their day off, employees may shop as any other customer and are not permitted in the backroom. This makes the Goodwill shopping experience fair for all customers and employees.
---
Currently, over 160 Goodwill organizations exist in the U.S. and Canada, with 14 Goodwill affiliated organizations in other countries around the world. Each Goodwill organization is independent and operates its own unique set of programs. Goodwill of Western Missouri and Eastern Kansas operates in over 80 counties.
---
Do Goodwill stores sell items from their back rooms?
It is against our policies to sell merchandise from the back room. Employees also cannot hold merchandise for shoppers in the back room. Some antiques and collectibles may be held in the backroom or in the store manager's office to be sold on one of our online stores.
---
How do I return/ exchange an item to Goodwill?
We gladly exchange the items you wish to return within 7 days of your purchase with all the tags attached and accompanied by a receipt. Books and media are not eligible for exchange. We do not accept returns.
---
Why do you charge for items that were donated to you?
Goodwill is a true social enterprise. The revenue generated in our retail locations funds our mission to empower people with disadvantages and different abilities to earn and keep employment through individualized programs and services. Check out our mission in action to see more from the people we serve.
---
Does Goodwill sell gift cards?
Yes! We sell gift cards in various denominations in our stores. Visit a store location to purchase.
---
Everyone! Treasure hunters, hobbyists, collectors, college kids, and people looking to save money – whatever your reason, Goodwill is good for you.
---
How often does your store merchandise change?
New merchandise is put on our sales floor every day and in busy seasons, every hour! And, items that don't sell go to the outlet location after four weeks in our stores. We receive thousands of donations every week and process them as quickly as possible in order to make them available for sale. No matter when you visit, Goodwill will always have something new!
---
Do you offer pick-up services?
Not at this time. Often when people or businesses are ready to donate, they're ready to donate right away. We make this convenient for you by accepting donations during the same hours our Goodwill Thrift stores are open. No waiting, simply load up your vehicle and come on by! In rare circumstances, we may make arrangements for a large pickup. If you think your donation may qualify, contact community@mokangoodwill.org.
---
Can I drop off donations after-hours?
No. To be kind to our neighbors and get the most value out of donations we ask that they aren't left unattended when the center is closed. Our stores and donation centers are open late - until 9pm most nights! Find a location near you.
---
What can you accept/what can I donate to Goodwill?
View the items accepted at Goodwill here by clicking on 'Donate Stuff.'
---
What don't you accept/ what can't I donate to Goodwill?
View the items we don't accept and alternative donation or recycling options by clicking here and selecting 'Donate Stuff.'
---
Can I claim an IRS deduction for items I've donated?
Yes. Goodwill of Western Missouri and Eastern Kansas is a 501(c)(3) nonprofit organization. According to the IRS, donated goods (in good, used condition or better) are tax-deductible. We will provide you with a tax receipt when you make a donation.
---
I really believe in the Goodwill mission. Can I donate money?
Absolutely! You may make monetary donations by clicking here. Financial donations are also tax-deductible. Be sure to print your receipt to keep for your tax records. We appreciate your support in helping us put people to work.
---
What happens to the donated items you can't sell? Why won't you take all of the stuff I want to donate?
Our goal is to be good stewards of your generosity. We have recycling programs to minimize our environmental footprint, so we recycle items we cannot sell through qualified salvage dealers and recyclers. We divert more than 85% of items donated from landfills which equate to 15 million pounds of goods annually!
---
How much of my donation goes toward your programs?
The Better Business Bureau says that a good charity channels at least 60% of its revenue into mission-based services. At Goodwill of Western Missouri and Eastern Kansas, 88¢ of every dollar we spend goes directly toward our mission of placing people into jobs. Concerned about email rumors? Get the facts here.