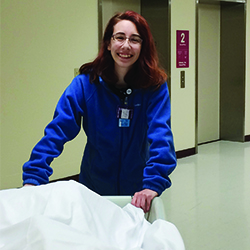 Meet Dani.  Those who know Dani will tell you the Power of Work changed her life. Through Project SEARCH, a partnership between Goodwill, North Kansas City School District, Children's Mercy, Missouri Vocational Rehabilitation Services, Center for Human Services and Truman Medical Center, Dani realized her potential. 
Project SEARCH is a high school transition program that provides real-life work experience to help youth with significant disabilities make successful transitions from school to adult life.  Students participate in three 10-week internship rotations where they learn job skills and receive on-the-job training. Goodwill provides job skills training and job coaching throughout the program. And at the completion of Project SEARCH, Goodwill's Career Impact Program empowers students to earn competitive employment. For Dani, each internship helped her overcome barriers to employment and taught her valuable workplace skills.
"She carries herself differently. She's more mature and more aware of who's around her and how to conduct herself," said Dani's Goodwill Job Coach.  
Dani earned a job at Woodley Building Maintenance. She's working independently and earning praise from supervisors. Nice work, Dani!