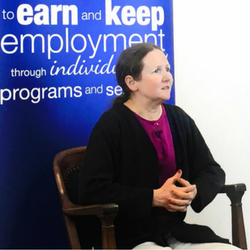 Meet Kim. Kim chose Goodwill because the agency worked with her grandfather in the 1960's. A Goodwill Career Navigator worked with Kim, often serving as a cheerleader and coach to help her realize her potential. The support she was given helped Kim keep from giving up. She said, 
"Looking for [work for] so long and not even getting a bite back is discouraging."
After many applications, a long awaited call back from the Community Improvement District resulted in a paid seven-week internship! "Kim has done an extraordinary job. She was a perfect match for the position because of her skills and experience," said Ike Goletz, Project Coordinator and Landscape Supervisor with the Community Improvement District.
"That's what separates Goodwill from other agencies. They take the time to find individuals with the proper knowledge, experience and education for the right job or internship. That's what's needed for successful placement."