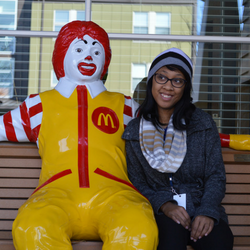 Meet Jayla.
After graduating high school, Jayla was eager to find a job that was perfect for her. To get the skills she needed to start a career, Jayla participated in Project SEARCH, a high school transitional program that provides real-life work experience to help youth with significant barriers make successful transitions from school to adult life.
During Project SEARCH, Jayla interned at Ronald McDonald House Charities in Kansas City. She was responsible for keeping the house clean and sanitizing the space. That was when Jayla realized she wanted to work in the cleaning industry.
After graduating from Project SEARCH, Jayla started working at a residential cleaning service. During this time, her family moved to a new home, but the AC unit went out (right in the heat of summer!). So, her things were in boxes, and she was living out of a suitcase. With the craziness of moving and job unhappiness, she quit. She ended up not working for almost one whole year.
Jayla came back to Goodwill for some help searching for a job. She received multiple job offers but held out for the perfect position for her - she found it at Truman Medical Center! Jayla's job is to make sure that patient's rooms are clean and tidy.
Jayla is doing what she loves, and she enjoys the people she gets to work with at her job. She is a hard worker, and we can't wait to see what she achieves next. Way to go, Jayla!