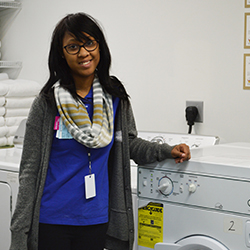 Meet Jayla. Entering her final year of high school, Jayla was eager to learn the skills she would need to start a career after graduating high school. Jayla participated in Project SEARCH,  a partnership between Goodwill, North Kansas City School District, Children's Mercy, Missouri Vocational Rehabilitation Services, Center for Human Services and Truman Medical Center.  
Project SEARCH is a high school transition program that provides real-life work experience to help youth with significant disabilities make successful transitions from school to adult life.  Students participate in three 10-week internship rotations where they learn job skills and receive on-the-job training. Goodwill's Career Coach empowers students during their internships; assisting with job searches to earn permanent employment at the end of the program and helping students acclimate to their new jobs.
Jayla enjoyed interning at Ronald McDonald House Charities Kansas City in two different houses: the Wylie House and the Longfellow House. She loved the fun environment and she especially liked the sports-themed murals at the Longfellow House. As an intern, Jayla was responsible for sanitizing the space in addition to general upkeep of the house. Jayla's team was extremely supportive and appreciative of her kindness and hard work, saying,
"Jayla is a valuable member of our volunteer staff and an asset to the Truman University Health Family."
Jayla's positive demeanor and great work ethic were noticed inside and outside of the Ronald McDonald House — before graduating from Project SEARCH, Jayla had already earned a job at Laura's Cleaning 4 You, a residential cleaning service.
 As one of her coworkers put it,
"(Jayla's)quiet disposition makes her shine bright!"
We agree! With her dedication and hard work ethic, we know Jayla will achieve whatever she sets her mind to.  Way to go, Jayla!