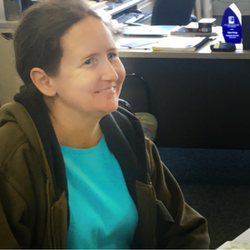 "When I called Goodwill for the first time and [someone] picked up, I knew what I had found. I found a good place…and it just kind of went from there."
Meet Kim. She may seem familiar to you, because she came to Goodwill a few years ago after searching for employment on her own for close to two years with no success.
Kim came to the table with two Associate Degrees - one in Horticulture & Turf Management and the other in Applied Sciences. She had also been living with a severe anxiety disorder that had gone undiagnosed and untreated for quite some time. Anxiety disorders can cause such distress that they interfere with your ability to lead a normal life and Kim struggled to get through any full day without breaking into tears or getting upset.
Goodwill was able to provide an advocate to be present for all of Kim's meetings and interviews, and successfully empowered Kim to earn employment with a few companies. Unfortunately, the positions she held evolved into something else that included a different skillset or the seasonal position ended.
With the support of Goodwill, Kim stepped back to consider another field for her career. Her attention to detail, strong cataloging skills, and military training made looking into the Security sector a viable option.
Kim is currently serving as a proud Security Guard for ISS/Uni Guard. With the support of Goodwill, her confidence has grown and her anxiety is manageable. She attends all meetings independently and the tears that once seemed out of her control have now been replaced by smiles. She visits often to update us on the new job, show off her new manicure color, and visit with several individuals on the team that she now considers life-long friends.  

*The good doesn't stop there. Kim was just announced the 'Empowerment Award Recipient' for Goodwill's 6th Annual Power of Work Awards, to be held April 19th, 2017 at The Kansas City Plaza's, Grand Street Cafe. If you're in or around the Greater Kansas City area this spring and would like to meet Kim and the rest of our incredible award winners and sponsors for this year's event - click here to support our mission and purchase your tickets!