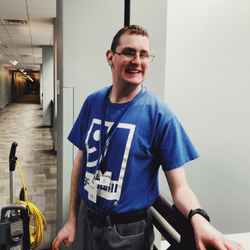 Meet Ron.
Looking for a job can be overwhelming, especially if it's your first job – this was the case for Ron.
Ron came to Goodwill in May for job search assistance, having never been employed before. The AbilityOne team worked with him to identify important work-related skills so he could land a job that's perfect for him. With their help, Ron got a job within the janitorial industry, which was right up his alley!
Within the first year, Ron already looks like a pro giving his all at work, determined to do his best. Laura Stockton said,
"When he started, he was shy and wouldn't really talk with others, but now he's a social butterfly. He now starts conversations with his co-workers about his interests and greeting them all at the start of the shift."
Ron has also grown in so many other ways. He has not only excelled in his position becoming one of the most efficient employees, but he has also grown as an individual. His guardian said,
"Ron's maturity level and sense of responsibility have risen dramatically since he's been employed. He has become task-oriented and has learned to appreciate free time rather than expect it as an entitlement. He now proudly states that he is a young man, a WORKING man, and that is a badge of honor indeed."
Ron's excitement for what he does is inspiring. He gives it his all and challenges himself to be better than he was the day before. We can't wait to see where life takes him!