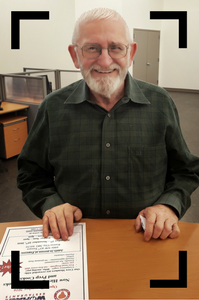 Meet Adney. Like many Americans, Adney Stean graduated high school and enlisted as a member of the U.S. Navy. He served our country for 22 years, after which he was honorably discharged in 1988.  During his service, he received his Associates Degree in Criminal Justice, completed Military Police School, and earned his BA in Applied Management.
Throughout his military career he protected lives, property, and responded to emergencies that spanned from routine - to more alarming than some could imagine. In the following chapter of his life he continued to serve in much the same way by helping others as an Adult Recovery Advisor and a Juvenile Correction Officer before his retirement.
Like many Americans, Adney became concerned that he wouldn't have enough retirement income to live out his golden years in the way that he wanted. All of a sudden, someone that spent the majority of their life thinking of others first, found himself isolated and afraid.
When Adney walked into the GoodWORKS Career Center, he was discouraged and frustrated. He hadn't been in the job market for over 15 years, didn't have an updated resume, and had a hard time navigating the internet to begin finding an opportunity to fit his skills and needs. Even if he landed an interview, employers weren't looking beyond the years on his face to find the years of experience, talent, and devotion.
When GoodWORKS Program Manager Karen Altenhofen speaks about meeting Adney – she glows. She is genuinely impressed by the character and devotion he has shown in every phase of his career.  
"We did our best together to revitalize him.  I asked him what other kinds of things interested him. We took skills he cultivated over the course of his career and illustrated how they translate into other things employers are looking for…

It took a few months of the vicious cycle that we have all become familiar with of applying and not hearing anything. However, while Adney got discouraged, he didn't give up and it paid off."
This past August, Adney got a seasonal temp-to-hire job working for Amazon, the premier online retailer in the world.
"He was so excited to share his news and I was so happy to be a part of it."  Karen said, "This was truly a Mission Moment, and I was glad I was able to help him redefine his value – and celebrate it."
Most recently, Amazon asked Adney to apply for a mentorship position to help train other incoming associates. We wish Adney the best of luck in this and all of his future endeavors. We hope that he will stay connected to Goodwill so we can follow his success, because, Good goes further.™