FOR IMMEDIATE RELEASE
Jan. 19, 2021
CONTACT: Victoria Rosengarten
KANSAS CITY, MISSOURI – The Federal Reserve Bank of Kansas City has announced two appointments to its Community Development Advisory Council (CDAC) for 2021. The council is composed of community, business and labor leaders from the Kansas City Fed's seven-state region. Council members advise the Bank on current developments and emerging issues in community and economic development.
New CDAC Members include:
Geoff Jolley, executive director of Local Initiatives Support Corporation (LISC) in Kansas City, Missouri. Jolley is a seasoned policy expert with strong community connections, having spent more than 13 years as the District Director and General Counsel for U.S. Rep. Emanuel Cleaver, II. In his role Jolley leads LISC's local staff, partnerships and community investment efforts, which to date have fueled nearly $1 billion in development activity. LISC focuses on equitable and inclusive solutions for affordable housing, economic development, financial stability, health, and safety.
Ed Lada, Jr., president and CEO of Goodwill of Western Missouri and Eastern Kansas, located in Kansas City, Missouri. Lada oversees MoKan Goodwill, a 127-year-old nonprofit social enterprise that serves 82 counties across Missouri and Kansas and employs nearly 500 across operations, including 14 donated goods retail stores. Lada led the launch of the Artemis Initiative at Goodwill, which focuses on "new collar" jobs in advance tech for people with barriers to employment.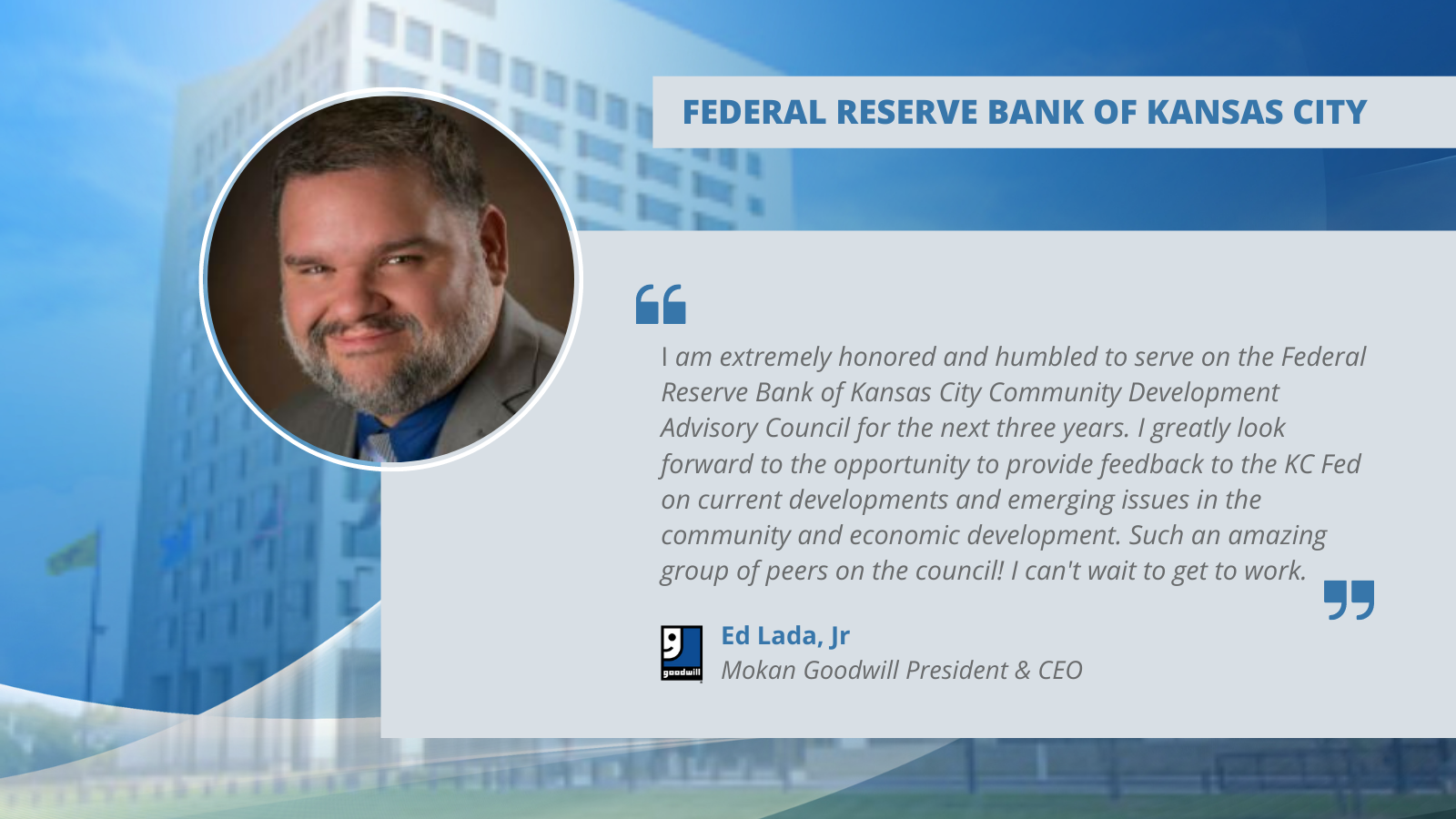 Current and reappointed council members include:
Dr. Raúl Font, president, Latino Community Development Agency in Oklahoma City, Oklahoma
Debbie Gorski, executive director, Wyoming Women's Business Center in Laramie, Wyoming
Jim Reiff, executive director, Nebraska Enterprise Fund in Oakland, Nebraska
Adrienne R. Smith, president and CEO, New Mexico Caregivers Coalition in Bernalillo, New Mexico
Aubrey Abbott Patterson, president and CEO, Hutchinson Community Foundation, in Hutchinson, Kansas
Niki Donawa, chief community relations officer at Truman Medical Centers in Kansas City, Missouri
Don Greenwell, president of The Builders' Association and executive director, Kansas City Chapter-Associated General Contractors of America (AGC) in Kansas City, Missouri
Cecilia Robinson-Woods, superintendent, Millwood Public Schools in Oklahoma City, Oklahoma
Liddy Romero, executive director, WorkLife Partnership in Denver, Colorado
Awais Sufi, CEO, SchoolSmartKC in Kansas City, Missouri
Neelima Parasker, president and CEO, SnapIT Solutions in Overland Park, Kansas
Council members serve three-year terms, offer year-round insight on economic and community development issues and meet twice a year with the Kansas City Fed's leadership.
As the regional headquarters of the nation's central bank, the Kansas City Fed and its branch offices in Denver, Oklahoma City and Omaha serve the seven states of the Tenth District: Colorado, Kansas, Nebraska, Oklahoma, Wyoming, northern New Mexico and western Missouri.