FOR IMMEDIATE RELEASE
Contact:
Gregg Hibbeler, Senior Director of Marketing and Communications
816.929.9864
CITING ITS COMMITMENT TO EQUITY AND INCLUSION, MOKAN GOODWILL FILES SUIT AGAINST CITY OF OLATHE
_____
Federal Suit Alleges Classism Baked into Olathe Ordinance Limiting the Location of Thrift Stores
(Olathe, Kan.) – Goodwill of Western Missouri & Eastern Kansas (MoKan Goodwill) has filed a federal lawsuit questioning the constitutionality of an Olathe city ordinance that lumps non-profit and charitable thrift stores into the same category as bail bonding companies and pawn shops, limiting thrift stores' proximity to other thrift stores and residential Olathe neighborhoods.
The suit challenges the Olathe ordinance, enacted in 2016, that prohibits certain types of businesses, specifically calling out thrift stores that seek to raise funds for charitable purposes that support Olathe citizens, from operating within 200 feet of a residential neighborhood or within a mile of another thrift store.
"We filed this lawsuit after exhausting every opportunity to educate Olathe city leaders that this ordinance is discriminatory, in hopes they would reverse their categorization of nonprofit thrift stores, similar to our Goodwill donated goods retail stores, which provide a myriad of vital services to our community," said Edward Lada, Jr., president and CEO of Goodwill MoKan.
"Our mission is to empower people through the power of work; to help people reach economic self-sustainability," continued Lada. "For more than a century, our business model of accepting donated goods and reselling items has funded this mission, where proceeds support our numerous workforce development and training programs for people with barriers to employment and people with disabilities. It is impossible for me to reconcile or rationalize why any community or city government would deem the work we do as unwanted, unnecessary, or undesirable, especially after serving the community of Olathe for 19 years."
MoKan Goodwill has leased a commercial property in Olathe at 135th and Brougham, the site of the former Aldi grocery store, which has sat vacant for the past two years. With the support of the nearby homeowner's association, Goodwill intended to open a retail store and donation center to serve neighboring communities.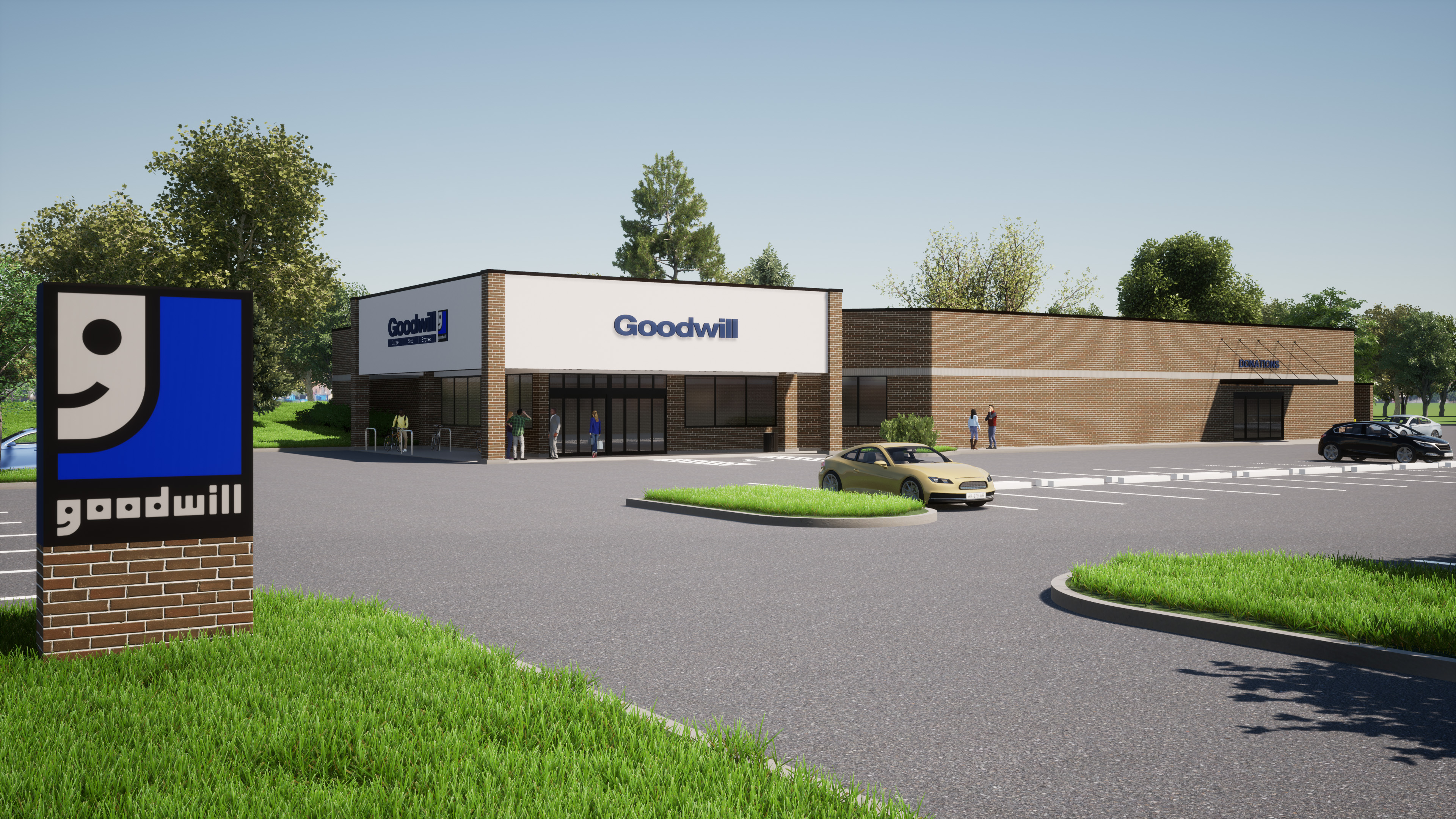 Rendering of Proposed Goodwill Store at 16175 West 135th Street, Olathe, KS
The City of Olathe denied Goodwill's license application, pointing to its ordinance that restricts thrift stores from operating near residential neighborhoods or other thrift stores.
MoKan Goodwill operated a much larger donated goods retail store a couple of blocks up the street in Olathe for 19 years, but due to the condition of the building it leased and the COVID-19 pandemic, it opted to close the store in March 2020 and continue operations across the street at the former Aldi site.
In 2019 alone, the Olathe store hired 46 local employees and accepted nearly 45,000 donations, diverting 1.3 million pounds of waste from area landfills.
"Our intent was to simply reopen a new store across the street. We just want to be treated like any other business. The last thing we wanted to do is file a lawsuit, as it drains precious time and resources away from our mission, but in order for systematic classism and discrimination to be eradicated, it must be brought out into the light," said Lada. "We have no choice but to challenge this ordinance and to be the voice for the people we serve and employ. We have loved being a part of the Olathe community and want to continue being a valuable resource to its citizens. If we don't fight for the people we serve, who will?"
About Goodwill of Western Missouri & Eastern Kansas
Founded in 1894, Goodwill of Western Missouri & Eastern Kansas has been providing services to our communities for more than 127 years. MOKAN Goodwill is a CARF-accredited 501(c)(3) nonprofit organization dedicated to helping individuals of all disabilities with barriers to employment obtain jobs, essential skills training, and personal development opportunities. Its regional retail stores and donation centers generate an annual economic impact of more than $24 million in Kansas City and its surrounding communities. As a Kansas City Industrial Council (KCIC) gold medal winner, Goodwill is also recognized as a leader in sustainability, annually diverting more than 14 million pounds of donated materials to resell, reuse or recycle. In 2020, MoKan Goodwill served more than 12,000 individuals with employment and relief services and assisting with 601 job placements.
Learn more at www.mokangoodwill.org. To see all the good we do together, follow us on Facebook, Google +, Twitter, LinkedIn, Pinterest, Instagram, and YouTube.
# # #