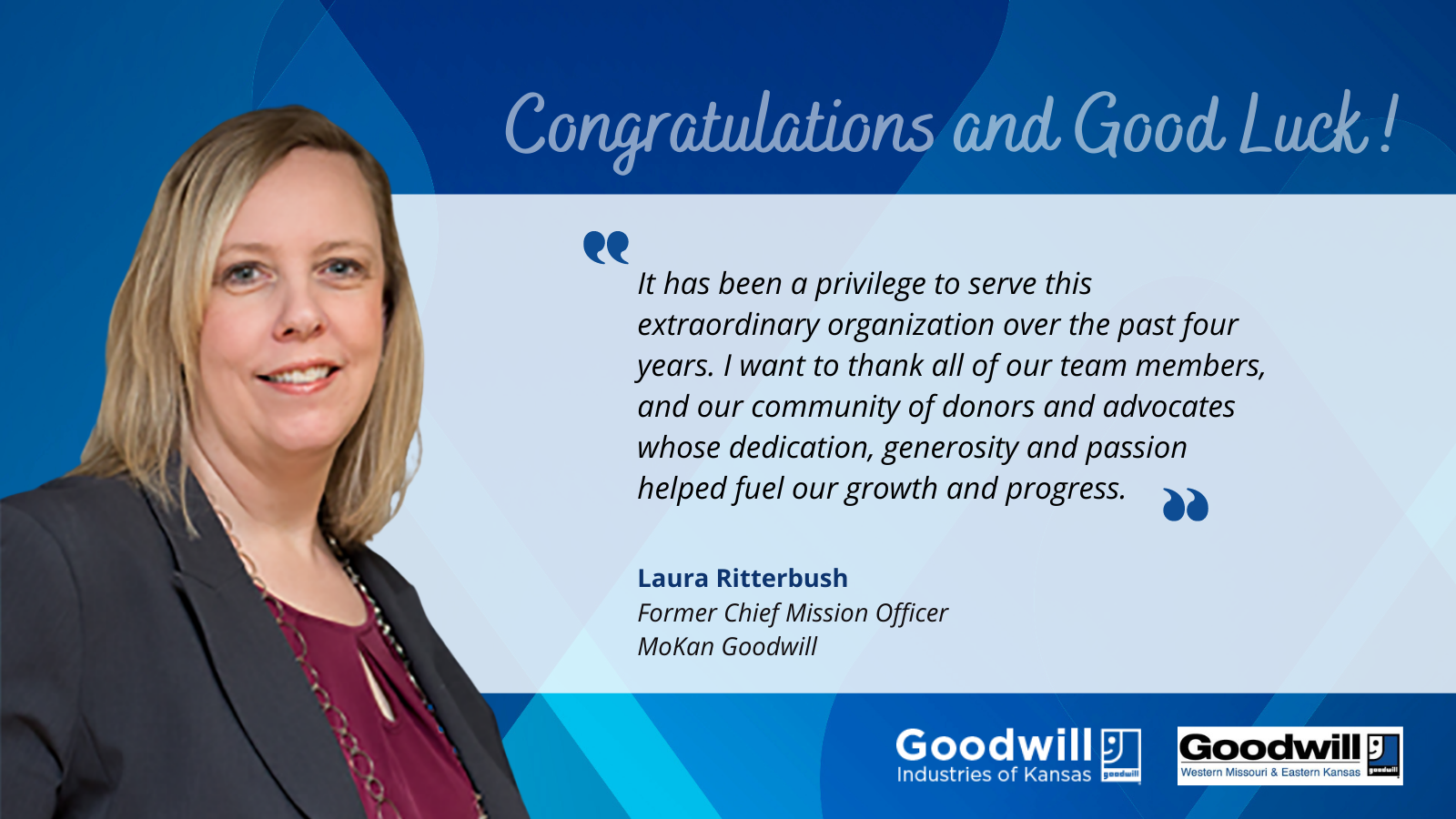 On behalf of the Board of Directors and Executive staff here at MoKan Goodwill, we are writing to inform you that Laura Ritterbush has announced her resignation as our Chief Mission Officer. After four successful years at our agency, she will depart at the end of February to become the CEO at Goodwill Industries of Kansas in Wichita.
Prior to joining MoKan Goodwill, Laura served as Vice President of Mission Operations at Goodwill of Greater Nebraska. She has been a wonderful asset to our agency. During her tenure, she and her workforce development team have steadily increased the services we have provided and the reach of our digital skills and employment training, serving more than 12,000 individuals and placing over 600 individuals in new jobs in 2020 alone. She has been instrumental in the launch of the Artemis Initiative and the soon-to-be-announced digital skills training programs of the Artemis Institute. Along the way, Laura has solidified our AbilityOne contracts and formed exciting partnerships with influential nonprofit organizations throughout our operating area. Her recent graduation form the Goodwill Executive Development Program has now strategically positioned her as a leader for the fantastic Wichita branch of our international non-profit.
Laura has expressed her leaving MoKan Goodwill as full of mixed emotions. "My time here has been very rewarding in terms of my professional development, the deep relationships established with the family here at Goodwill and many community partners in Kansas City."
"I want to thank Ed and the Board of Directors for allowing me the privilege to serve this extraordinary organization over the past four years. I also want to thank all of our team members, and our community of donors and advocates whose dedication, generosity and passion helped fuel our growth and progress."
Ed Lada, Jr., President and CEO of Goodwill of Western Missouri and Eastern Kansas notes, "On a personal level, I could not be more proud of the job Laura has done for our fine organization, but more than that, as a leader, I could not be more ecstatic to see the growth and triumph Laura has achieved during her time here in Kansas City. She is a shining example of what can be achieved at Goodwill, achieved through perseverance, dedication, passion, compassion, and grit. I cannot wait to see how she excels for the people of the great state of Kansas in her new role and with her new team, and in continuous collaboration with our organization on statewide initiatives."
We will be conducting an internal and nationwide search for the next Mission focused leader of MoKan Goodwill, one who will build upon the work and progress we have made on the Artemis Initiative (job description located here).​​​​​​​ During this time of transition, we count on your continued support so that those we serve can count on us. Please join us in celebrating and thanking Laura for her dedication to our agency and wishing her continued success in her new role as CEO with Goodwill Industries of Kansas in Wichita.