Kansas City, Missouri (February 28, 2022)
Goodwill of Western Missouri and Eastern Kansas (MOKAN Goodwill) has announced the hiring of Funmi Popoola as the organization's new President and CEO. Popoola is succeeding Ed Lada, Jr., who has accepted a similar position with Goodwill Keystone Area in Harrisburg, PA.
"After a thorough national executive search process, the Board of Directors is ecstatic to welcome Funmi Popoola as the next President and CEO of MOKAN Goodwill, said Jameson Auten, Goodwill Board Chair and Deputy CEO and COO for the Kansas City Transportation Authority. Funmi's dedication and focus on the Goodwill mission, his experience in retail operations, and his commitment to continuing to build a sustainable, vibrant, and effective service delivery model throughout our footprint make him an ideal leader for our organization. We look forward to working with him and the communities we serve to empower people."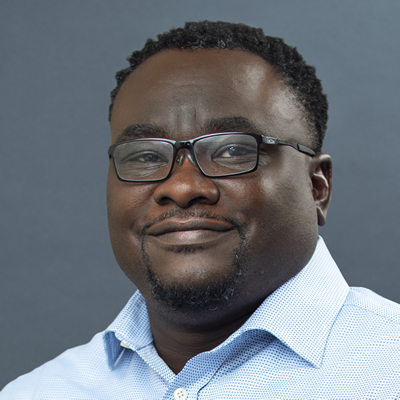 "It is with a full heart that I return to this community with the privilege of leading this cherished organization, said Popoola. I'm humbled and excited to build on the 128-year legacy of service to our community, and I look forward to working with our team members, community partners, and board of directors on continuing to grow a mission-focused organization. Together, we will ensure that people with barriers to gainful employment have the opportunity to economically advance so that they may best care for themselves and their families."
Popoola joins MOKAN Goodwill with a wealth of nonprofit and operational experience, most recently serving as the Chief Operating Officer at Goodwill Central Texas and formerly as Vice President, Operations with Seattle Goodwill. Popoola, a Wichita State University graduate with a master's degree from Fort Hays State University, has more than 12 years of progressive leadership experience with Fortune 300 organizations and in the nonprofit sector. He is passionate about talent development, operational excellence, elevating customer experience, and business optimization in support of services. Funmi is also personally committed to the Goodwill mission, having benefited from the services of similar organizations as he relocated from Nigeria to Wichita, Kansas in 2002.
Popoola assumes his duties with MOKAN Goodwill Feburary 28, 2022.
About Goodwill of Western Missouri & Eastern Kansas
Founded in 1894, Goodwill of Western Missouri & Eastern Kansas is a CARF-accredited 501(c)(3) nonprofit organization dedicated to helping individuals of all abilities obtain jobs, essential skills training, and personal development opportunities. Recognized as an "Employer of Choice" with a GuideStar Seal of Transparency, our agency operates regional retail stores and donation centers that generate funds to support our Mission, with 88¢ of every dollar earned committed to empowering local job seekers. As a Kansas City Industrial Council (KCIC) gold medal winner, MoKan Goodwill is also recognized as a leader in sustainability, annually diverting more than 16 million pounds of donated materials to resell, reuse or recycle. In 2021, we served 4,840 individuals, providing nearly 9,000 employment services, and assisting with 811 job placements.
Learn more at www.mokangoodwill.org. To see all the good we do together, follow us on Facebook, Google +, Twitter, LinkedIn, Pinterest, Instagram, and YouTube.