Kansas City, Missouri, June 17, 2022 – Goodwill of Western Missouri and Eastern Kansas (MoKan Goodwill) recently celebrated the graduation of five students from its spring semester Bridge to Technology program at its midtown headquarters. The Bridge to Technology program, a FREE course offered through the agency's educational institute, is designed to prepare adult learners for an advanced career pathway of their choice within the technology field. Students participated in the program over a ten-week period through a combination of on-line and in-person computer lab/classroom instruction. Each student also worked closely with a Goodwill employment specialist who assisted with preparing an individual career development plan to aid in their job search.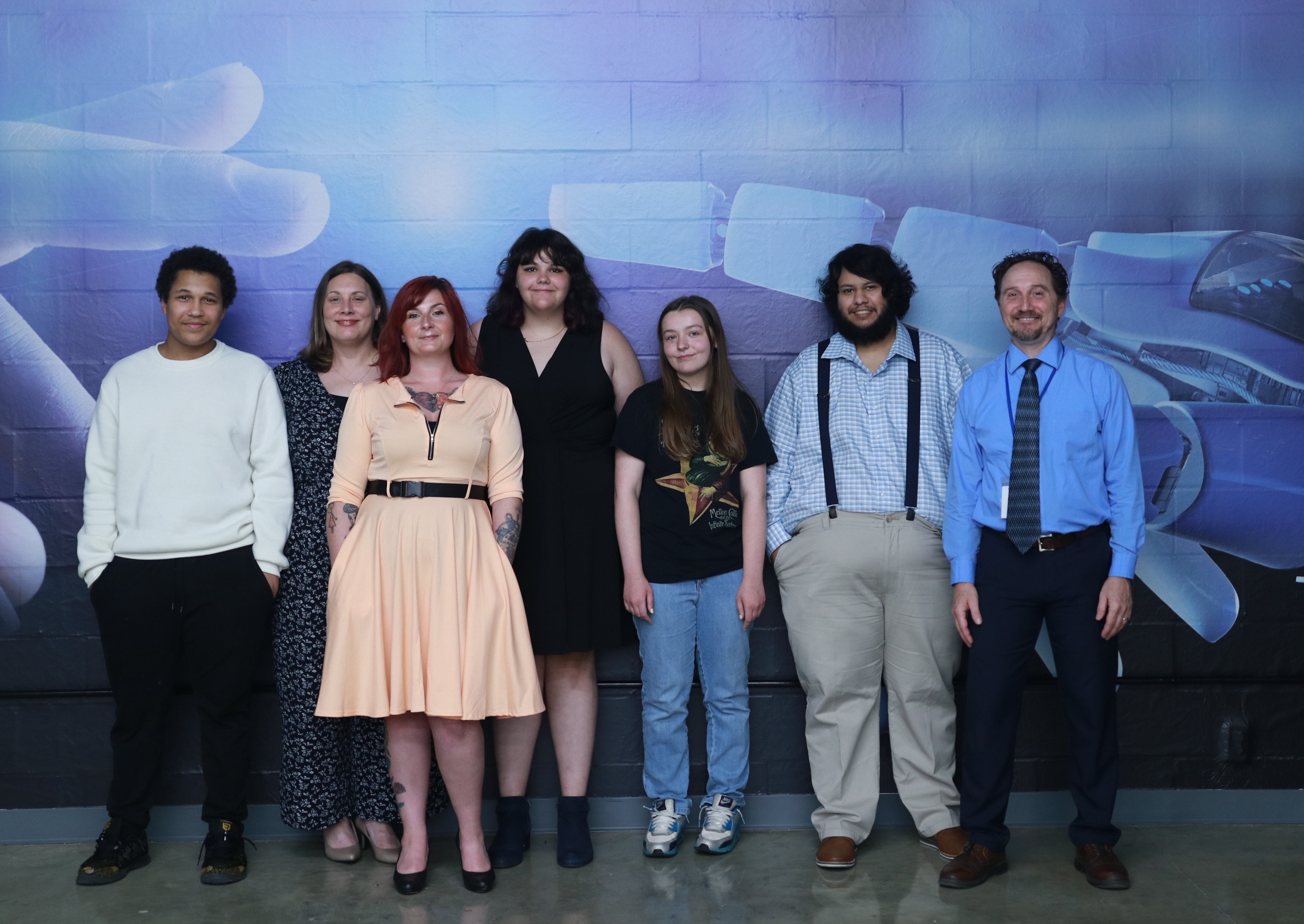 Graduating Students included Jade Breshears, Anna Orr, Luis Soto, Jahvon Thomas, and Rae Thompson.
MoKan Goodwill is proud to provide free courses through the Artemis Institute, a partnership with area technology companies to train adults so they are well prepared for the next wave of industry. As part of Goodwill's Bridge to Technology program, students are educated in digital literacy, future state technologies, and the evolution of jobs in the tech workforce.
"I absolutely love my experience at the Artemis Institute, and I'm confident and optimistic about my future," said Jade Breshears, a Bridge to Technology graduate.
"The Artemis Institute has allowed me to directly affect the present lives of our students, aiding them in understanding that they are in control of their future and supporting them on this journey," said Chuck Zavos, Adult Education Instructor at MoKan Goodwill's Artemis Institute. "I am always amazed at the teamwork that exists in our program."
To continue the efforts of empowering students through alternative education, the Artemis institute also offers free courses in Digital Skills Training and certifications from Facebook and Google. Recently, the institute partnered with the IBM SkillsBuild program to provide free tech learning paths, and SME and Tooling U, to offer a free Certified Manufacturing Associate (CMfgA) certification course, which will enable job seekers to access high-demand, entry-level manufacturing positions.
"For 128 years, MoKan Goodwill has had a rich legacy of service to local job seekers. Our agency continues to operate out of the same sense of urgency—responding to the needs at hand and the future requirements of the 4th Industrial Revolution. Rapidly changing technologies such as artificial intelligence, robotics, and 3D printing are drastically shifting how we work and the skills that will be important to employers in the future. Goodwill wants to ensure that everyone has the opportunity to benefit from the well-paying careers currently available within the IT field as well as the future state jobs that are being created, " said Anita Davis, Chief Mission Officer.
To learn more about our free courses and certification programs at the Artemis Institute, visit https://www.goodwillartemisinstitute.com/.
About Goodwill of Western Missouri & Eastern Kansas
Founded in 1894, Goodwill of Western Missouri & Eastern Kansas is a CARF-accredited 501(c)(3) nonprofit organization dedicated to helping individuals of all abilities obtain jobs, essential skills training, and personal development opportunities. Recognized as an "Employer of Choice" with a GuideStar Seal of Transparency, our agency operates regional retail stores and donation centers that generate funds to support our Mission, with 88¢ of every dollar earned committed to empowering local job seekers. As a Kansas City Industrial Council (KCIC) gold medal winner, MoKan Goodwill is also recognized as a leader in sustainability, annually diverting more than 16 million pounds of donated materials to resell, reuse or recycle. In 2021, we served 4,840 individuals, providing nearly 9,000 employment services, and assisting with 811 job placements.
Learn more at www.mokangoodwill.org. To see all the good we do together, follow us on Facebook, Google +, Twitter, LinkedIn, Pinterest, Instagram, and YouTube.