Kansas City, Missouri – April 21, 2022
Goodwill of Western Missouri and Eastern Kansas (MoKan Goodwill) recently received a $5,000 grant from State Farm Insurance to support the organization's digital inclusion programming.
"Goodwill is incredibly grateful for State Farm's support. With the help of donors like State Farm, Goodwill is able to use its mobile workforce unit to meet individuals where they are and provide devices, internet access, and digital skills training on the spot," said Kristen Wood, Director of Strategic Initiatives, MoKan Goodwill.
As a digital skills divide and related workforce development barrier exists in the Kansas City area, MoKan Goodwill is working to bridge the gap by providing digital skills courses to individuals. During and after digital literacy training, individuals may work with Goodwill staff on identifying their career goals, creating an individual development plan on the path to those goals and/or apply for employment. The grant will help expand training to serve more individuals in the metro area.
"We are excited to partner with MOKAN Goodwill and their Digital Inclusion Program. Our goal at State Farm is to team up with other organizations to build safer, stronger, and better educated communities. We are excited about our involvement and look forward to seeing the success from this program," said Chad Mitchell, local State Farm Agent.
To learn more about the various programs and services MoKan Goodwill offers local job seekers, visit https://www.mokangoodwill.org/mission/programs-and-services.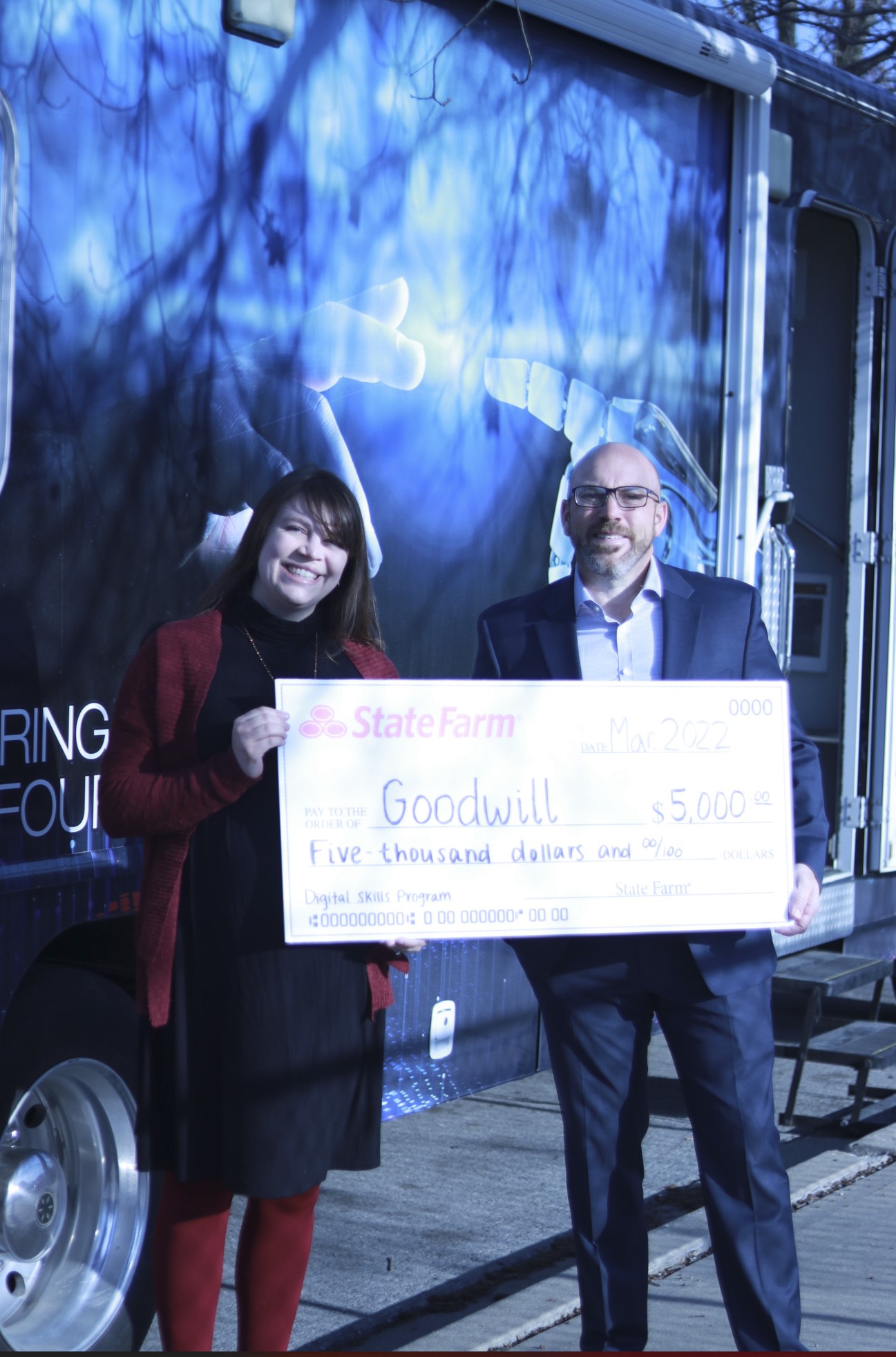 About Goodwill of Western Missouri & Eastern Kansas:
Founded in 1894, Goodwill of Western Missouri & Eastern Kansas is a CARF-accredited 501(c)(3) nonprofit organization dedicated to helping individuals of all abilities obtain jobs, essential skills training, and personal development opportunities. Recognized as an "Employer of Choice" with a GuideStar Seal of Transparency, our agency operates regional retail stores and donation centers that generate funds to support our Mission, with 88¢ of every dollar earned committed to empowering local job seekers. As a Kansas City Industrial Council (KCIC) gold medal winner, MoKan Goodwill is also recognized as a leader in sustainability, annually diverting more than 18 million pounds of donated materials to resell, reuse or recycle. In 2021, we served 4,840 individuals, providing nearly 9,000 employment services, and assisting with 811 job placements.
Learn more at www.mokangoodwill.org. To see all the good we do together, follow us on Facebook, Google +, Twitter, LinkedIn, Pinterest, Instagram, and YouTube.
About State Farm®:
For 100 years, the mission of State Farm has been, and continues to be, to help people manage the risks of everyday life, recover from the unexpected, and realize their dreams. State Farm and its affiliates are the largest providers of auto and home insurance in the United States. Its more than 19,400 agents and approximately 53,400 employees serve over 87 million policies and accounts – which includes auto, fire, life, health, commercial policies and financial services accounts. Commercial auto insurance, along with coverage for renters, business owners, boats and motorcycles, is available. State Farm Mutual Automobile Insurance Company is the parent of the State Farm family of companies. State Farm is ranked No. 39 on the 2021 Fortune 500 list of largest companies. For more information, please visit http://www.statefarm.com.​