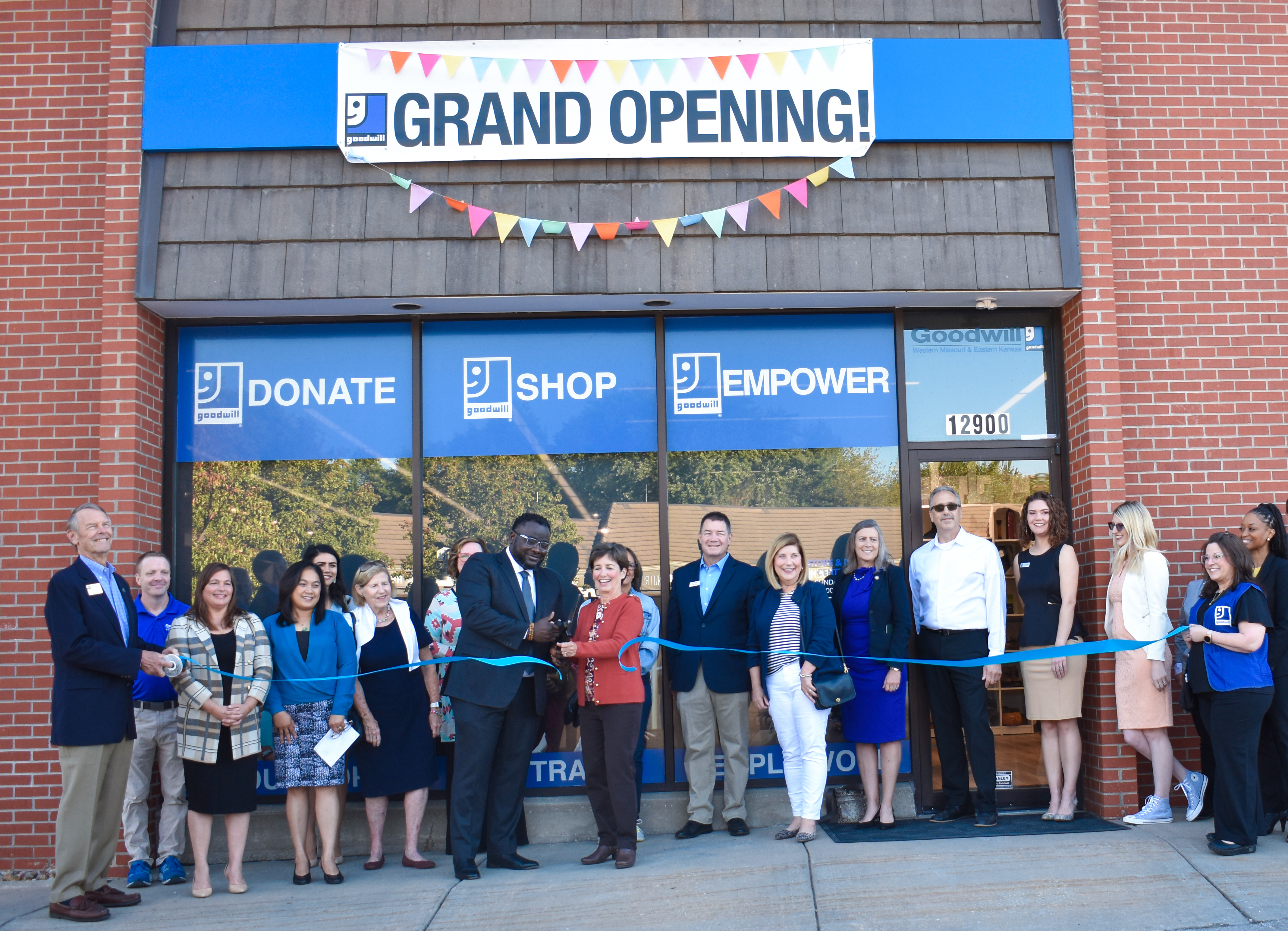 Goodwill of Western Missouri and Eastern Kansas (MOKAN Goodwill) opened the region's first-of-its-kind Goodwill retail shop featuring a curated design collection from the metro area's other eight Goodwill stores.
"You can put together a beautiful outfit from top to bottom with prices starting at $7.99," said Nancy Mueller, Store Support Manager. "This is a different Goodwill shopping experience and we're excited about this store opening."
Take a peek at the new Goodwill Leawood store here.
The store, located at 12900 Stateline Road in the Leawood Square Shopping Center, held a grand opening ribbon cutting ceremony on Wednesday, September 28, just before the doors opened at 9:00 a.m. to shoppers.
"Most people know our stores, but often do not know that this all goes to help people get jobs," said Anita Davis, Chief Mission Officer. "Our job training programs uplift people with limited resources and limited education. We are able to both repurpose these beautiful goods and create programs and opportunities for individuals and families most in need."
Since 2018, the Leawood space has been a Goodwill Assisted Donation Center and remains so with the expansion of the new retail store. Although this retail location will predominantly resell clothing and household items, the public is encouraged to bring new and gently used items to the donation center to support the agency's mission. Through revenue generated by the new Goodwill Leawood location and the organization's other 14 retail stores, MOKAN Goodwill provides workforce development services, job training, and employment in 82 counties across western Missouri and eastern Kansas.
Revenue from MOKAN Goodwill's retail stores fund employment and educational programs. Goodwill supports individuals of all abilities and those with disadvantaging conditions, such as persons with physical challenges or cognitive disorders, limited education and work history, criminal backgrounds, under- or unemployment, or situational barriers such as lack of transportation or housing.
The Goodwill Leawood retail store and donation center is open for shopping seven days a week from 9:00 a.m. to 6:00 p.m. Bargain seekers and treasure hunters rely upon Goodwill for its wide variety of clothing and household goods offered at affordable prices. Because Goodwill stores restock several times each day, shoppers can always find something new.
To learn more about Goodwill of Western Missouri and Eastern Kansas, visit https://www.mokangoodwill.org/.
To shop for an amazing range of clothing, collectibles, furniture and other items online, please visit www.ShopGoodwill.com.
About Goodwill of Western Missouri & Eastern Kansas
Founded in 1894, Goodwill of Western Missouri & Eastern Kansas is a CARF-accredited 501(c)(3) nonprofit organization dedicated to helping individuals of all abilities obtain jobs, essential skills training, and personal development opportunities. Recognized as an "Employer of Choice" with a GuideStar Seal of Transparency, our agency operates regional retail stores and donation centers that generate funds to support our Mission, with 88¢ of every dollar earned committed to empowering local job seekers. As a Kansas City Industrial Council (KCIC) gold medal winner, MoKan Goodwill is also recognized as a leader in sustainability, annually diverting more than 18 million pounds of donated materials to resell, reuse or recycle. In 2021, we served 4,840 individuals, providing nearly 9,000 employment services, and assisting with 811 job placements.
Learn more at www.mokangoodwill.org. To see all the good we do together, follow us on Facebook, Google +,  Twitter, LinkedIn, Pinterest, Instagram, and YouTube.