Kansas City, Missouri (FEBRUARY 7, 2022) – Goodwill of Western Missouri and Eastern Kansas (MoKan Goodwill) is promoting an alternative Valentine's Day date night experience through its Facebook and Instagram channels now through February 14th. Followers and fans are encouraged to plan a date night around picking their partner's outfit from its thrift stores and submitting their best photos. All photo submissions received will be reviewed by a panel of judges, who will select one lucky entry that will win a Valentine's Day package worth over $150.

Couples or friends will purchase each other's clothing outfits without their input, keeping spending under a $20 limit per person. Couples or friends will then dress up and go out on their date – wearing the surprise outfit their partner chose specifically for them.

"We hope this is a fun way to shake up what can sometimes feel like a monotonous holiday," said Josh Kelley, Community Engagement Manager for MoKan Goodwill. "Instead of roses and chocolate, make this Valentine's Day an experience to remember with your partner or friend. Those memories will last long after the roses fade and chocolate is gone."

Research states unequivocally that Americans put a price on love. According to the National Retail Federation, Valentine's Day spending is expected to reach $23.9 billion this year, up from $21.8 billion in 2021. More than half of U.S. consumers plan on opening their wallets for the holiday, with the average shopper spending $175.00 on gifts.

This contest isn't just for a couple's night; money spent at the thrift stores is used to fund MoKan Goodwill's career advancement programs and services. "This is a fun way to get out and do something different with your partner or friend, but the fact that it helps us further the goals of our mission to assist local job seekers is what is most rewarding. That's what we're all about."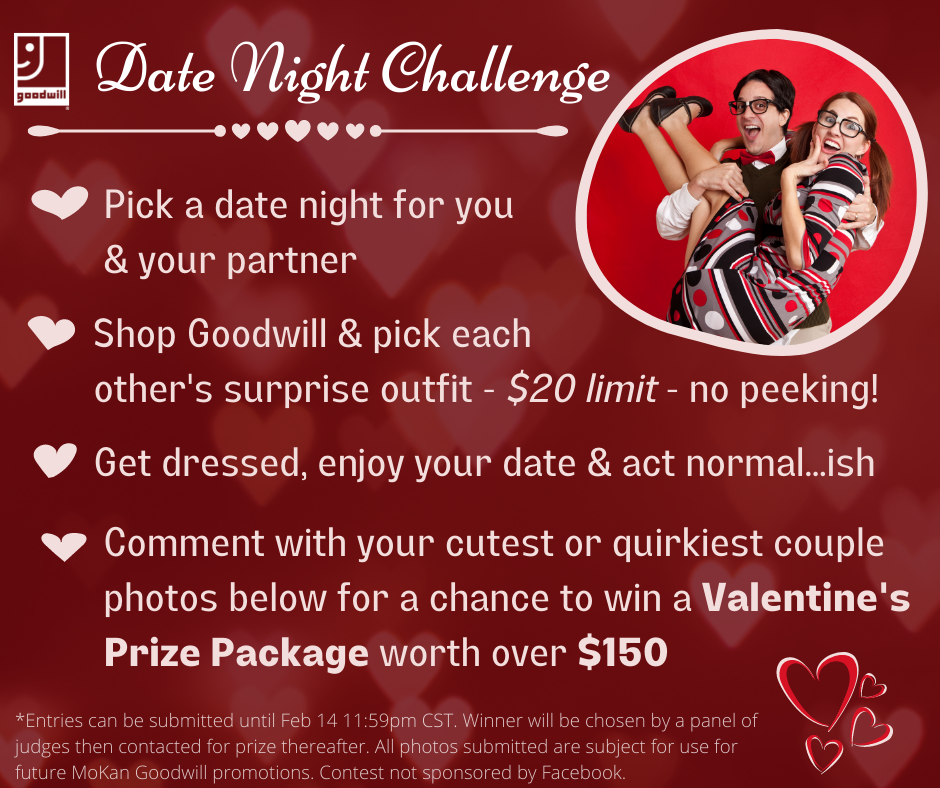 Those interested in the contest can submit their photos by commenting on the pinned post on Facebook or by Direct Messaging their photos to Instagram.