MAY 2023 — Kansas City, Missouri Goodwill of Western Missouri & Eastern Kansas today announced their "New Lives" ad campaign. The campaign tells a compelling story about how donations to Goodwill help change lives by providing career training, jobs and other services to individuals who face challenges accessing these types of services.
Consumers know about Goodwill retail stores though many are not aware that this household brand's mission is to provide people with support to empower themselves and thrive through training, development and employment. At MOKAN Goodwill, we assist people through a variety of employment placement services, job training programs and other community-based services, including our Mobile Workforce Unit, a working RV designed to bring the job training to those in need.
This campaign features the many faces and stories of Goodwill job seekers, what they have overcome, and how donations from the public have played a vital role in their self-empowerment. These donations allow Goodwill to offer free services to those who need them and are not able to easily avail themselves of conventional job support services. Thousands of people receive employment and other human service programs through Goodwill and, in 2022, MOKAN Goodwill helped more than 700 people get placed into jobs, including Jenny.
Jenny faced homelessness and wanted to make a change, but needed assistance. She sought out Goodwill's Artemis Institute, a collection of free job training programs ranging from basic computer skills to advanced technology. She made such a big impact as a student, that she is now one of MOKAN Goodwill's very own employees, instructing the Digital Inclusion courses that she once took.
See the rest of Jenny's story here.
Before piloting this campaign, Goodwill surveyed consumers across the country to assess their interest in our mission story. The results showed that more than half of donors and shoppers were more inclined to support the mission while 42% of job seekers were more likely to seek employment support from Goodwill.
Goodwill has partnered with Vicki Salemi, author and nationally syndicated columnist for the "Vicki on Careers" for Tribune to help amplify the stories of the people served by Goodwill.
"I'm proud to join this campaign and partner with Goodwill to help individuals looking for work get the tools they need to excel in the workforce and gain employment," said Salemi. "I've been an advocate of Goodwill for many years and appreciate how their career experts help people advance their careers."
To fund its mission, MOKAN Goodwill sells donated goods in its stores and online with proceeds enabling the organization to provide FREE job placement and training, skills development for career advancement, and other necessary support services for people looking to learn skills and advance their careers. When you shop or donate to Goodwill, you are helping people earn jobs, advance their careers and care for their families in your community. Visit www.mokangoodwill.org to learn about how Goodwill helps our local community.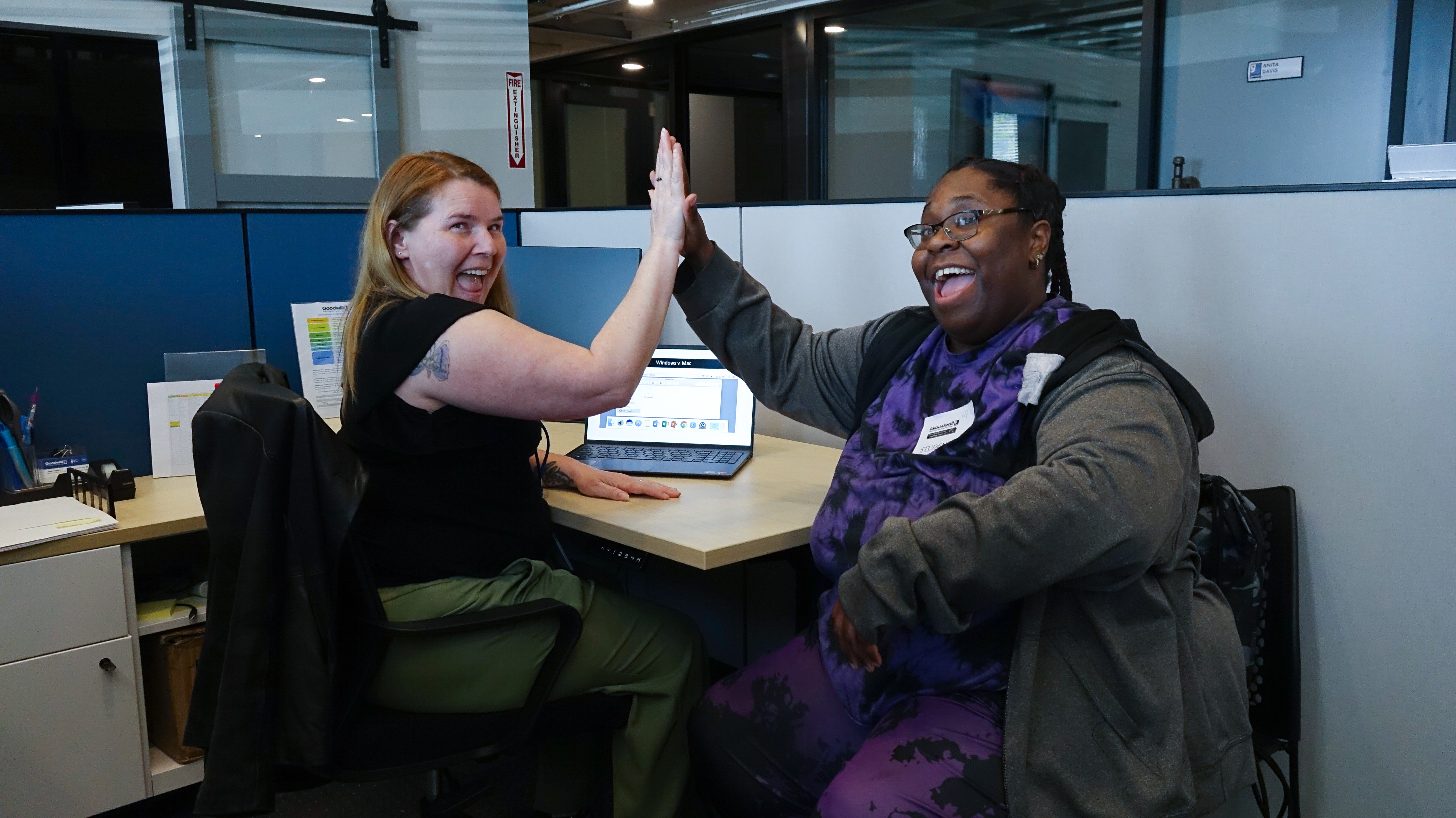 PHOTO: L-R Jenny Orrick with a mission client