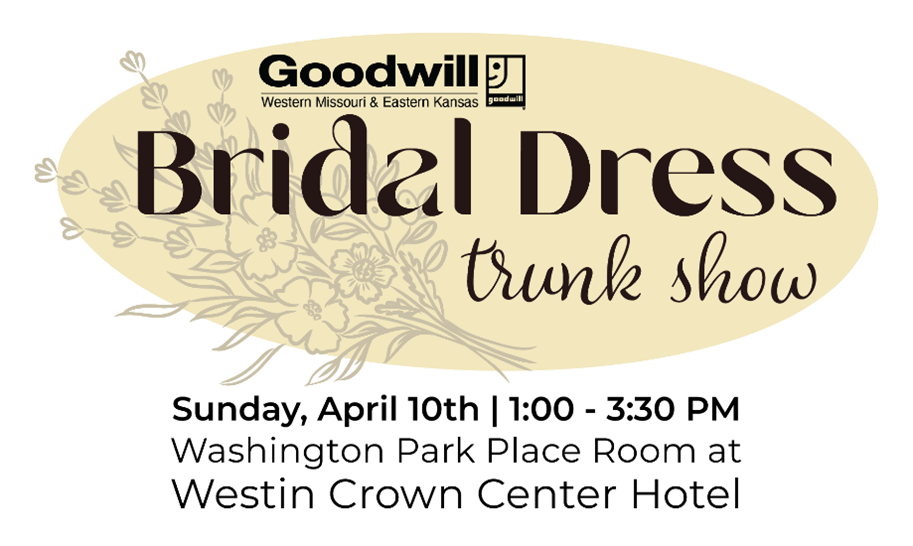 BRIDAL TRUNK SHOW
April 10th, 1:00- 3:30 pm, Westin Crown Center
"All brides-to-be are invited to MoKan Goodwill's first-ever bridal trunk show to find the dress of their dreams for as low as $75.00."
Kansas City, Missouri: March 17, 2022
WHO: Brides-to-be and bridesmaids searching for affordable new or gently used gowns and wedding accessories.
WHAT: Join us at the Westin Crown Center for our first-ever bridal dress trunk show, featuring more than 100 wedding dresses and gowns in various sizes and brands, with many priced as low as $75.00! Sale merchandise includes gently used gowns donated by individuals as well as new-with-tags, excess stock donated by local bridal shops. FREE ADMISSION TO ALL.
WHERE: Washington Park Place Room at the Westin Crown Center. 1 East Pershing Road, Kansas City, MO 64108
WHEN: Sunday, April 10th, 2022, from 1:00 – 3:30 pm
HOW: Wedding dresses will be displayed for attendees to view and try on. Volunteers will also model some bridal gowns. All gowns will be available for sale when doors open at 1:00 PM. No holds or reserves will be accepted. Payment by credit/debit card or cash will be accepted at the trunk show. Visit the link below for more information to see a complete list of brands and sizes.
https://www.mokangoodwill.org/about/bridal-show
WHY: the average cost of a wedding dress now near $1,800.00, MOKAN Goodwill's Bridal Trunk Show will offer soon-to-be brides a chance to save more than 90% off regular retail prices during this event. Like all purchases from Goodwill, those made during the Bridal Dress Trunk Show will benefit local job seekers of all abilities facing barriers to employment.
*The Knot Real Weddings Study, 2021
About Goodwill of Western Missouri & Eastern Kansas
Founded in 1894, Goodwill of Western Missouri & Eastern Kansas is a CARF-accredited 501(c)(3) nonprofit organization dedicated to helping individuals of all abilities obtain jobs, essential skills training, and personal development opportunities. Recognized as an "Employer of Choice" with a GuideStar Seal of Transparency, our agency operates regional retail stores and donation centers that generate funds to support our Mission, with 88¢ of every dollar earned committed to empowering local job seekers. As a Kansas City Industrial Council (KCIC) gold medal winner, MoKan Goodwill is also recognized as a leader in sustainability, annually diverting more than 18 million pounds of donated materials to resell, reuse or recycle. In 2021, we served 4,840 individuals, providing nearly 9,000 employment services, and assisting with 811 job placements.
Learn more at www.mokangoodwill.org. To see all the good we do together, follow us on Facebook, Google +, Twitter, LinkedIn, Pinterest, Instagram, and YouTube.